Expand your Business Outside the U.S.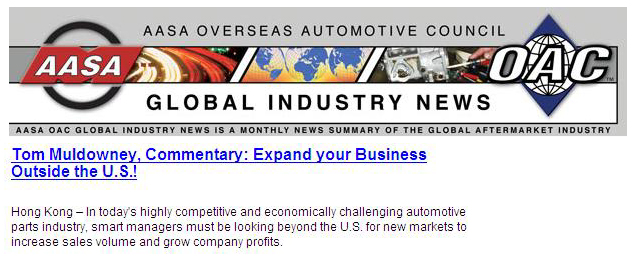 by Tom Muldowney – OAC member since 1995
Hong Kong – In today's highly competitive and economically challenging automotive parts industry, smart managers must be looking beyond the U.S. for new markets to increase sales volume and grow company profits.
Consider these facts:
According to Forbes: From 2000 to 2007 global GDP growth averaged 3-4 percent per year led by the industrialization of China.
In that same period Asia's GDP growth has averaged over 4 percent compared with 2.68 percent in the U.S. (which outpaced Europe).
According to CNN/Money: The net income of U.S. companies from operations outside the U.S. now accounts for a full 50 percent of income earned at home versus just 10 percent in 1950.
Unfortunately some managers I meet are still restricting their search to the traditional U.S. auto parts export markets such as Mexico, Canada, South America, the Middle East and the Caribbean (which some call the Chevy Caprice markets). You must not ignore Europe with a vehicle population of 267 million vehicles and cannot ignore the new enormous growth opportunity of Asia with over 154 million vehicles. Ignore Europe and Asia and you could be turning a blind eye to a full 55 percent of your current opportunity plus denying your future in the high growth regions of Asia and Eastern Europe.
Take a look at how these markets compare with the NAFTA, and the traditional 'export markets' of Latin American, The Caribbean, and the Middle East:

| | | |
| --- | --- | --- |
| Region | Vehicle Population | % of Total |
| U.S./Canada/Mexico | 267,134,488 | 33.82 |
| Latin America | 36,605,116 | 4.63 |
| Caribbean | 2,816,661 | 0.36 |
| Western Europe | 228,016,921 | 28.87 |
| Eastern Europe | 46,702,762 | 5.91 |
| Asia | 154,888,925 | 19.61 |
| Australia/New Zealand | 15,346,235 | 1.94 |
| Middle East | 23,189,094 | 2.94 |
| Africa | 15,155,590 | 1.92 |
| Total | 789,855,792 | 100 |


Source: 2008 World Vehicle Market Report (free with OAC membership) 2005 Vehicle Census data
From personal experience, I know that Europe is a tough market to crack. This is largely because the European aftermarket has not been growing for the past decade, your European competitors are already entrenched, it has heavy regulation, and most of the importers tend to be very small companies (particularly in Scandinavia and Southern Europe). I have been told this is due to a business tax structure in EU countries that makes investing in new employees challenging. These small enterprises often lack the time, human, and financial capital to launch new ventures. That being said, we have launched very successful ventures in Europe since 2000 that have sustained double digit growth. The market is there but cannot be cracked with simply a low price and an export agent: it requires strong people and savvy marketing. Europe takes longer, in my experience, than Asia to gain a foothold; but once you develop your European business base, it is equally hard for competitors to dislodge. In April, the Guangzhou trade fair will take place in China, and a multitude of European importers/distributors from our industry will board planes to make the long trip to Asia to look for new products. They would not make this journey if the market was not there! Europeans, like smart businesspeople everywhere, are looking for new opportunities and new things to sell.
Asia has a dynamic middle class that is large and growing quickly. For the past decade it has consistently enjoyed extraordinary annual economic growth of 6-10 percent. Foreign brand names are hugely desirable and cars are a proud symbol of new-found wealth. In the early 1990's the so called 'tiger economies' of Korea, Singapore, Thailand, Malaysia and Hong Kong emerged. If you were any good in our industry, you could grow your business 20+ percent per year in these fast paced economies. Then the Asian economic crisis of 1997-98 hit. Almost overnight, Asian currencies devalued 70-80 percent against the U.S. dollar. This was a very challenging period. But after living in Asia for more than 16 years, I can tell you that people in Asia are very hard working and industrious (just like Americans). They scrimped and saved. The strong got stronger during the crisis and the marginal players hit the exits. After 2000, Asia rebuilt and was again 'go - go'. This time Asia was led by the new economic powerhouse China with a GDP expanding for most of this decade well above 10 percent. Last year China bumped Germany out of third spot in terms of vehicle population size, and so far this year more cars have been sold in China than in the U.S.! Strangely the crisis of ten years ago could be what best positions Asia to weather today's trying times. A quick look at international financial institutions will show that the Asian banks have approximately 10 percent of the exposure to toxic assets relative to their U.S. or European counterparts.
I first went to China in 1992 to do the foot work for an aftermarket line of maintenance chemicals. I returned to Shanghai three months later with a short chemical product line. In the auto parts market, I knocked on all the available doors and had many polite rejections. One shop owner haggled with me for three hours to buy just 4 cases of Carb and Choke Cleaner worth about $125. There was so much negotiation that I got up to leave...twice, only to be called back. When the deal was finally done, the Loban (big boss or business owner) told me that with this big sale I could "take a rest". (Little did he know one night in my hotel cost twice the value of his order!) I was perhaps a bit early for the China aftermarket back in 1992. Today the China aftermarket has arrived and in a huge way! Today we regularly get full container load orders for U.S.-made products with no haggling!
Did you know that on October 1, 2008 a critical law was changed in China that made Tuning or car customization legal? (Thousands of people were already changing their wheels/tires, exhaust, computer chips, etc illegally before October). Now it is legal for a person to change the color of their vehicle for the first time! The Chinese government is encouraging the development of a tuning industry.
India has a middle class of over 300 hundred million people. You can find massive car dealerships, some with over 20 service advisers, teaming with people loyally bringing their cars back to the dealer for service. All of the major manufacturers produce cars in India. Toyota, Suzuki, Honda, Hyundai, GM (Chevrolet), Ford and Mercedes are among the players. A more modern independent retail market is emerging, bringing with it exciting opportunities.
At the invitation of the OAC, I hope to provide a monthly column on aftermarket opportunities in those bountiful markets outside the U.S. In these challenging times, international expansion is key to the continued grow of U.S. companies in our industry. I travel about 200 days per year working in markets outside the U.S. with importers, wholesalers, retailers, body shops, car dealers, and even car enthusiasts in car clubs. In the coming months I promise to share some of the opportunities I see with you, my fellow OAC members.
So how's business? As business people in these times, we often ask each other this very question . From my perspective on the ground in Asia, I can share with you that Japan is under going the same economic pain as the U.S. and Europe as demand for its products shrink. Korea is undergoing an extreme economic shock as the Won has dropped over 30 percent against the dollar and domestic credit has all but disappeared. China and India still have robust aftermarkets. This is because 30 percent more cars entered the roads in many states and provinces in recent years, and they still need service. The other 'tiger' economies are somewhere between the two extremes of Japan/Korea and India/China. So far this economic event feels much less severe on the ground in Asia than the crisis of 1997/1998.
Tom Muldowney is the Managing Director of International Market Access Ltd. He formed IMA in Hong Kong in 2000 to help take American brands global. A longtime OAC member, Tom has sold over $500 million of U.S.-made products to international markets. He has been based in Asia for 16 years working with global brands/organizations such as Loctite, Henkel, Permatex, Teroson and Meguiar's. He has set up subsidiaries in Korea and representative offices in China. Tom can be reached at: tmuldown@gmail.com.
The commentary above does not reflect the opinions of MEMA, its market segment associations, or boards of directors.
Copyright © 2009 MEMA - All Rights Reserved

---