Become an International Conversationalist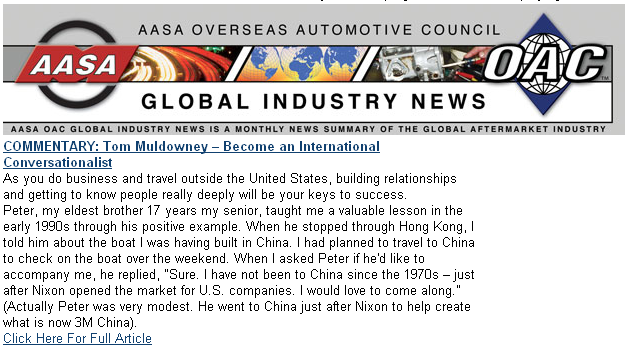 As you do business and travel outside the United States, building relationships and getting to know people really deeply will be your keys to success.
Peter, my eldest brother 17 years my senior, taught me a valuable lesson in the early 1990s through his positive example. When he stopped through Hong Kong, I told him about the boat I was having built in China. I had planned to travel to China to check on the boat over the weekend. When I asked Peter if he'd like to accompany me, he replied, "Sure. I have not been to China since the 1970s – just after Nixon opened the market for U.S. companies. I would love to come along." (Actually Peter was very modest. He went to China just after Nixon to help create what is now 3M China).
We took a ferry to Shekou about an hour up the coast from Hong Kong. Peter marveled at how much everything had changed over the last 20 years. Mr. Lu, the chief engineer of the boatyard, greeted us upon our arrival. Peter immediately sprang into action: he asked Mr. Lu about how long the boatyard had been opened, how he came to work there, what he liked about his career, his marital status, his plans for his children, etc.
It took nine months for my boat to be completed and Peter accompanied me on two more visits.
About a year after my boat was launched, I had a chance encounter with Mr. Lu on one of Hong Kong's outlying islands. Mr. Lu was polite to me and asked how I liked my boat. He was, however, keenly interested in my brother, Peter. He inquired about Peter's health, business and family.
Peter, an international conversationalist, had made a friend for life!
Some (possibly too many) U.S. business travelers talk about their 'stuff'. Stuff is boring if you do not have the same stuff. A great example is your house. Some Americans make the cardinal sin of telling their overseas guests about their house, in mind-numbing detail. Your host may listen out of politeness, but she/he does not honestly care about your possessions.
What do people care about? Their culture, your appreciation of their food, local customs, business ventures you have in common and their family, hobbies and their stuff. And like all of us, your host would most like to tell you more about him/herself. To be an international conversationalist (and a great sales person), ask open questions that encourage your hosts to share their feelings about specific subjects. Avoid religion and politics. You will soon discover what is close to their heart: their family, their country's culture, their philosophy and their dreams and aspirations.
The importance of building great relationships both business and personal is a cultural universal. Become an international conversationalist and build lifelong relationships!
Editor's Note: Tom Muldowney is the managing director of International Market Access Ltd. He formed IMA in Hong Kong in 2000 to help take American brands global. A longtime OAC member, Tom has sold more than $500 million of U.S.-made products to international markets. He has been based in Asia for 16 years working with global brands/organizations such as Loctite, Henkel, Permatex, Teroson, 3M and Meguiar's. He has set up subsidiaries in Korea and representative offices in China. Tom can be reached at: tom@intlmarketaccess.com. IMA's new Web site: www.intlmarketaccess.com. He also has a blog updated several times a week: www.intl.typepad.com
---